Description
The hamsa hand charm bracelet was designed as an essential accessory to compliment up your outfit. It is highly malleable making it easy to wear. This means that you get the most comfort from the bracelet which sits seamlessly in your arm.
1*Oxidised Hamsa Hand Charm– to elevate the Azari charm bracelet and accentuate the exclusive look.
100% handmade – Superior craftsmanship employed in making the beaded stone bracelet ensuring that every element is made to perfection for greater durability and exclusivity.
Eco-friendly – All stainless steel wire, sterling silver & gemstones used for Azari products are eco-friendly. It is reclaimed silver & steel, refined and re-milled. Great for the environment. Look great and feel great.
Nickel and lead free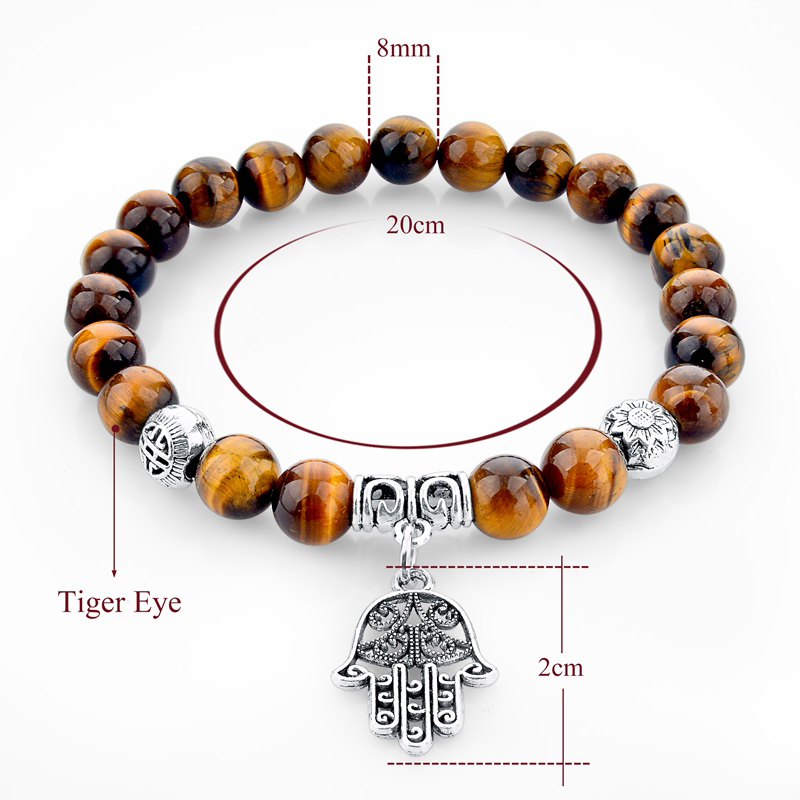 The uniquely oxidised stainless steel hamsa hand charm complements the striking tones of the natural stones, making this Azari bracelet the ideal choice to complete a variety of styles. It is an absolute essential for your wardrobe as you can switch it from formal to casual outfits.
You simple can match it with anything. It can be transformed from day to night with a simple change of your outfit.
Occasion: Anniversary, Engagement, Gift, Party, Wedding.
Gemstone Benefits/Meaning
Yellow Tiger Eye Gemstone
Tiger Eye Gemstone is believed to bring brightness and optimism to a situation, and shine insight onto problems. Known as a stone of protection, the Tiger Eye gemstone brings good luck and prosperity to the user.
Tiger Eye gemstone is helpful in manifestation of ideas into reality and giving courage in times of change. In many cultures the tiger eye gemstone is believed to boost of creative energy and provide balance to the wearer.
Hamsa Hand
The hamsa hand is a protective sign. It brings happiness, luck, health, and good fortune to its wearer.